Stabilizing support giving relief to the lumbar spine with the LordoLoc Lower Back Brace
The LordoLoc lower back brace is a high end brace suitable for use as a light back support for the stabilization of the lumbar spine, for example in the event of chronic lumbar vertebral syndrome.
The stabilizing orthosis with four 91/4″ integral anatomically contoured flexible lightweight aluminium stays has a muscle-activating effect, relieves the spine and is very low-profile. The degree of stabilization can be adjusted to provide optimal individual support to the lower back.
Individually adaptable for the perfect fit
Light, elastic and breathable
A strong partner in combating back pain
Low-profile and discrete
Made in Germany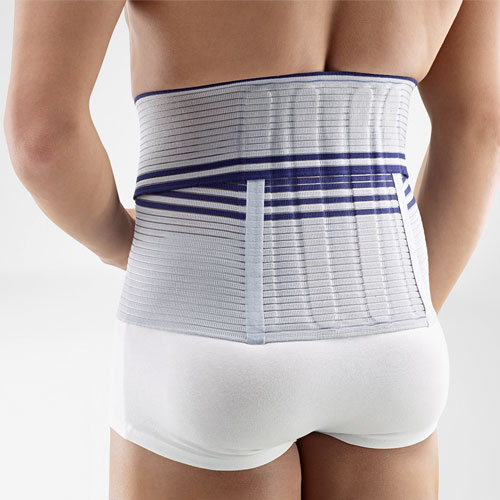 Light support for the lumbar region
LordoLoc lower back brace is characterised by its extremely thin yet effective construction. The supple support consists of two adjustable straps and four 91/4″ corset stays made of flexible lightweight aluminium inserted at the back.
The rods support the spine if an activation of the musculature alone is not sufficient. The tighter the upper strap is fastened, the greater the stabilization. The corset stays can be individually reshaped for a perfect fit. The stays provide extra support if muscular activation is not enough.
Soft and effective
Easy to fit, comfortable to wear: The support is opened and closed using Velcro fastenings with practical hand straps. The degree of compression exerted by the elastic tensioning straps depends upon their adjustment. The soft, thin and lightweight material sits comfortably and snugly against the body, without being particularly noticeable under the clothing. LordoLoc thus relieves the lower back perceptibly yet discretely.
Sizing Chart for the LordoLoc Lower Back Brace
<
| | |
| --- | --- |
| Size | Wrist Circumference in Inches (cm) |
| 1 (X-Small) | 27.5″ – 31.5″ (70cm – 80cm) |
| 2 (Small) | 31.5″ – 35.5″(80cm – 90cm) |
| 3 (Medium) | 35.5″ – 39.5″(90cm – 100cm) |
| 4 (Large) | 39.5″ – 43.5″(100cm – 110cm) |
| S (X-Large) | 43.5″ – 47.5″(110cm – 120cm) |
| 6 (XX-Large) | 47.5″ – 51.5″(120cm – 130cm) |
| | |
| --- | --- |
| | Measurement: Measure your waist circumference 1″ below belly button. |