The EVO Hinge Ankle Stabilizer offers the convenience of a removable plastic hinge. Easily converts to the traditional EVO ankle stabilizer – ASO (ankle stabilizing orthosis), aiding in treatment progression.
The combination of the plastic hinge and the stabilizing strap technology provides great inversion/eversion control. The stabilizing straps function as both a stirrup strap to control the calcaneus and a figure-8 strap to stabilize the ankle and subtalar joints.
This brace provides exceptional ankle support and stability while enabling the natural biomechanics of the ankle joint. Ideal for the treatment of acute and chronic ankle injuries. You can remove the hinges, allowing you to use the brace chronically to reduce the severity and frequency of future ankle injuries
The stirrup straps are lined with a Skinloc material to better capture the calcaneus (heel) to resist inversion or eversion of the ankle. Skinloc also reduces skin irritation to the plantar surface of the foot. The dynamic cuff increases this compression as the stabilizing straps begin to restrict the inversion or eversion of the calcaneus.
Stabilizing straps form a figure-eight crossing over the anterior region of the tibia, fibula, and talus to help stabilize the ankle joint and then crossing under the calcanues to help stabilize the subtalar joint.
Great for use during sports such as soccer, basketball, volleyball, and baseball.
Features of the Medspec EVO with Hinge Ankle Stabilizer Include
Inner Stirrup Strap
Detachable plastic hinge is self-adjusting and offers increased protection.
Dynamic Rigid Plastic Cuff
Designed to fit the left or right foot
Comes in Black only
Trademark ASO Ankle Stabilizing Orthosis figure-eight Stabilizing Straps.
Manufactured in the USA under the highest quality standards
Can be machine washed on a gentle cycle, Do Not Bleach, air dry only
Ankle Support and Profile Comparison Chart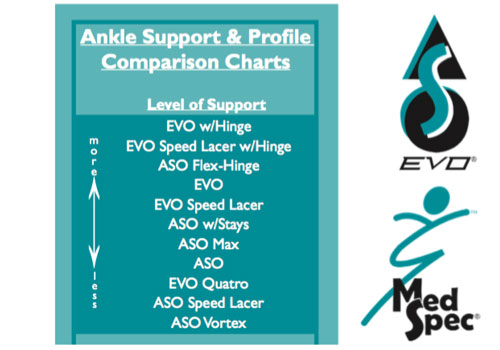 Sizing Chart
| | |
| --- | --- |
| Size | Ankle Circumference |
| X-Small | 10″ – 11″ |
| Small | 11″- 12" |
| Medium | 12″- 13" |
| Large | 13″- 14″ |
| X-Large | 14″ – 15″ |
| XX-Large | 15″- 16″ |